Worker Repairing An Auto Body Panel
The Bureau of Transportation Statistics reports that there are more than six million traffic accidents per year in the USA. Largely for this reason, the auto body parts market continues to thrive. Insurance companies write off many damaged vehicles as "totaled;" these automobiles are usually towed off to junk yards where certain auto parts are salvaged for resale. Auto body shop owners and savvy consumers know that these salvage yards sell used auto body parts for a fraction of their original price.
The auto detailing industry is an important secondary market for interior and exterior car parts. Rather than trading in a well-running car after a few years, many car owners are opting instead to have their cars refurbished. This often involves in-depth cleaning of carpets, seat upholstery, and other interior surfaces as well as exterior washing and hand-waxing. It may include replacement of worn carpeting and other interior surfaces as well as repair of dents, dings, and rust spots. A variety of auto body parts may be required to complete the detailed refurbishing project.
Auto body repair shops and car dealers are the primary customers for auto body products, but many car owners repair and modify their own vehicles as well. Has your car been damaged in an auto accident or do you want to customize your car's exterior? On AutoBodyParts.us, you can find sources for aftermarket and OEM repair parts as well as custom parts and accessories.
Browse the auto body part manufacturers and dealers for specifications and photos, as well as prices and online ordering of parts for most automobile makes and models. Whether you are looking for automotive exterior parts (such as body kits, ground effects, and spoilers), interior parts (such as steering wheels and floor mats), or vehicle lighting products, you can find suppliers of these items listed below.
Auto Body Parts Dealers
Car Parts


Find the right body parts and accessories for your car, whatever the make or model.
www.CarParts.com

JC Whitney


Find a wide range of car body parts and automotive accessories at this popular online shop. Whether it's body trim, bumpers, headlight trim, or repair panels, this auto parts dealer stocks these parts for most makes and models.
www.JCWhitney.com
Rear Spoiler for Sports Car
Auto Body Parts Manufacturers
---
Copyright 2004-2022 Zeducorp.
All rights reserved.
About Us
.
Contact Us
.
Search
.
For your convenience, certain links will open in new windows.
Auto Body Parts - Auto Body Kits
Recent Auto Body and Autobody News
---
Related Auto Parts Images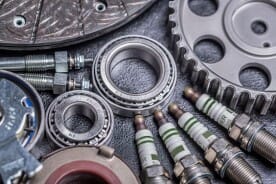 Auto Parts Arrangement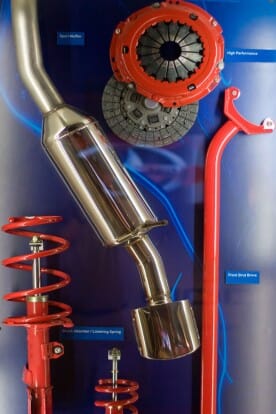 Auto Parts Retail Display